Many people have the expectation that all LEDs will last over 50,000 hours, which makes low cost LED lighting sound like a good option.
Over the past few years we have been conducting rigorous tests on a variety of low cost LED lights readily available on the market.  We found that after just 32 days of continuous testing several of these products had up to a 97% drop in light output and suffered multiple individual LED failures – that's in less than 800 hours!  Under the same conditions the Labcraft products had a 0% fall in light output and also a 0% failure rate.
The implications of this can have a large impact on your costs.  To calculate the possible full lifetime costs associated with cheap LED lighting failures, we have identified the following:-
Product replacement costs – various prices
Labour rate to replace 1 light unit – up to £40 each
Time off the road (loss of business due to downtime) – up to £2,000
Vehicle damage due to poor light – up to £12,500
Why Labcraft quality pays dividends in cost savings
Our continuous lighting product life tests have already been documented at >100,000 hours without any failures.  One reason is LEDs hate heat and good thermal management has a direct effect on their longevity.  All LED devices used in Labcraft lamps are expertly thermally managed to prolong their life.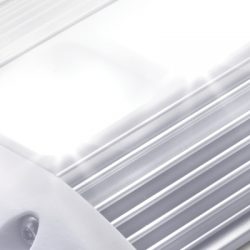 At Labcraft, we exclusively use high quality Cree led devices in all products and this, combined with our established technical design capabilities, result in a range of LED products that are designed and built to last, offering consistency in light output through the life of the product.
That's why Labcraft can uniquely offer a
10 YEAR WARRANTY.
For further information call Labcraft on 01799 513434 or visit us at the Commercial Vehicle Show 2019 – Stand 5C70.
About Labcraft

Labcraft are industry leaders in the field of Commercial and Emergency Vehicle LED lighting, designing and manufacturing in the UK a range of high quality LED lighting lights with distinctive design features.  Labcraft lighting solutions have proven to improve safety and reduce lifetime costs.