« Back to Exterior/Scene Lighting « Back to General Lighting « Back to New Products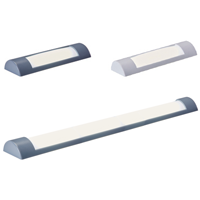 LED STEPLITE
Summary
Choice of 160 or 320 lumens of clean white light
Low power consumption
Choice of 2 trim colours & styles
Stylish, compact, low profile design
Quick & easy to install
Waterproof to IP66 option available
Long life, high intensity Cree LEDs
The Steplite uses the latest in Cree LED technology offering optimum performance and extended life, increasing productivity, reducing vehicle downtime and creating a safer working environment.
Choice of 2 trim colour & styles
The Steplite fixing surrounds are available in a choice of grey or white.  The half open surround directs the light downwards to illuminate applications such as steps.  A fully open surround is available for the 150mm version to give a wider spread of light within enclosed spaces such as lockers.
Quick & easy to install
This stylish, low profile product has been designed with only 2 fixing points making it quick & easy to install.
Waterproof to IP66 option
The standard unit has an IP50 rating and an IP66 option is available for exterior applications.