Labcraft will soon be launching the new 150mm LED STEPLITE; a versatile lighting solution which is ideal for any lighting application where a smaller footprint is required.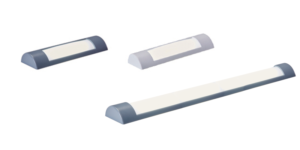 Already available in a compact 75mm length, and only 11mm in depth, the small but powerful Steplite is a bright, cost effective lighting solution for illuminating enclosed and smaller spaces such as:-
Lockers
Cabinets
Small load areas
Racking
Shelving
An IP66 option is also available for exterior and refrigerated applications such as step lighting and also as safety marker lighting for illuminating protruding equipment within vehicles, such as refrigeration equipment, and any other apparatus which may be fitted at eye/head level, thereby increasing safety.
Quick and easy to install, this stylish product has been designed with just 2 fixing points with a choice of half or fully open trim that simply clips over the top for your preferred angle of light.
Supported by Labcraft's market leading 10 year warranty, the LED Steplite uses the latest in Cree technology offering optimum performance and extended life, creating a safer working environment within the Commercial Vehicle industry.