Labcraft was contacted by a company who were having significant problems with the flexible LED strips they had fitted (from another supplier) in their fleet of commercial vehicles.  They were experiencing a considerable drop in light output and mass failures of individual LEDs.
Labcraft's technical team conducted tests on samples provided by the company.  After just 32 days the flexible LED strips had suffered a 97% fall in light output and multiple LED failures, compared to 0% for the Labcraft product being tested at the same time.

Jamie Pettit, Technical Director, explained, "Generally low quality LEDs are used for this type of  flexible strip light, essentially to keep costs down, and these tend to draw more power and create more heat.  Whilst the potting of the strips gives a degree of protection against moisture, it also traps the heat inside the device and effectively cooks the LED until the point of failure, also causing discolouration.  These products were never designed for commercial / industrial use and therefore, whilst they offer a quick installation solution, and as our testing demonstrates, they won't last very long in commercial vehicle applications."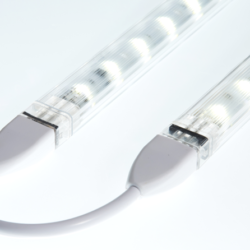 Labcraft's LED strip lights are manufactured in the UK using the highest quality components and brightest Cree LEDs.  Potting solution is not used in the IP66 waterproofing process, preventing any discolouration or loss in light output.
The Labcraft LED strip light range includes the Orizon, Apollo, Nebula and Astro, all of which are supported by Labcraft's market leading 10 year warranty.

About Labcraft

Labcraft are industry leaders in the field of Commercial and Emergency Vehicle LED lighting, designing and manufacturing in the UK a range of high quality LED lighting lights with distinctive design features.  Labcraft lighting solutions have proven to improve safety and reduce lifetime costs.