Nowadays LED is without a doubt the lighting technology of choice for the vast majority of companies. With so many manufacturer's offering what appear to be similar LED products at widely different prices, it's often the light output performance that is the first thing used to make a comparison. So do you know your LUX from your LUMENS?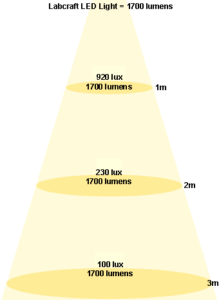 LUX levels are determined using a lux meter and is the measurement of the exact intensity of light at a given point away from the light unit. The lux level will be influenced by the distance from the light source but also by a wide range of different factors including product design, secondary lensing and the environment the light is fitted within.
LUMEN is the unit of measurement for the light emitted from the source of a product, in this case the LED, and is reported using the abbreviation of lm. Whilst lumens can be a useful measure of anticipated light intensity, it should not be solely relied upon to determine the suitability of one product over another.
To discuss your lighting options visit the Labcraft Team at the Commercial Vehicle Show 2019 – Hall 5 Stand C70.
About Labcraft

Labcraft are industry leaders in the field of Commercial and Emergency Vehicle LED lighting, designing and manufacturing in the UK a range of high quality LED lighting lights with distinctive design features.  Labcraft lighting solutions have proven to improve safety and reduce lifetime costs.