Labcraft are pleased to share the news that Lomas Distribution has won the Show Innovation Award 2019 at the recent TankEx show, and they have Labcraft lighting specified as standard.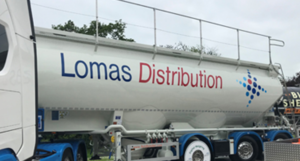 The FFB tanker has been specified with Labcraft LED lighting with a view to improving safety in the workplace.  Labcraft Si6 Scenelites have been fitted along the top edge of the tanker to illuminate the area around the vehicle whilst working.  The Banksman BM3 lights are also fitted underneath the chassis to illuminate the area around the vehicle while manoeuvring.  Lomas Distribution already specify the Banksman BM3 and Powerlux on their trailers, but this is the first tanker to take on the Labcraft lighting specification.
Why install a Banksman system?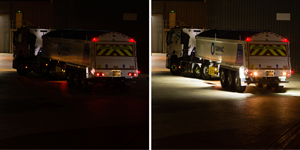 HSE: "Construction plant can be heavy.  It often operates on ground which is muddy and uneven, and where driver visibility is poor.  People walking on site and injured or killed by moving vehicles, especially reversing ones".
Take a look at how it works on our YouTube channel: https://youtu.be/I5P_zisLGEQ
The Labcraft Banksman BM3 light is the World's first ECE-R23 compliant light to be introduced to the market, which provides a manoeuvring light solution applicable to any commercial vehicle where improving safety and reducing costs is important.
By significantly improving driver visibility, it helps:
To discuss your lighting options, arrange your on-site demonstration and your fleet trial to enable you to test this out in the field for yourself, call Labcraft on 01799 513434 or email [email protected]