The PowerluxTM and Hyperlux ranges are a superior interior Commercial Vehicle LED lighting solution specifically designed for vans, trucks and trailers.
Using the latest super bright, long life Cree LEDs, combined with Labcraft's unique heat management system. This range of multi-voltage lamps (10-32VDC) offers 1194 lumens (PowerluxTM) or 1872 lumens (Hyperlux) of clean, bright, white light, with minimal power draw, thereby improving safety in the workplace.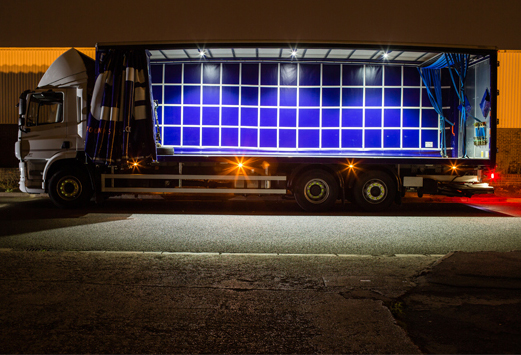 These powerful LED lamps are a surface mount low profile product measuring only 17mm in depth to allow for maximum loading capacity within vehicles and reduces the risk of accidental damage, resulting in less time off the road due to downtime (for repairs/replacement lights).
The PowerluxTM and Hyperlux products are constructed using a robust aluminium extrusion with a unique impact deflection design, combined with tough polycarbonate endcaps for ease of fixing.  The IP67 rating allows for pressure washing and challenging environments such as refrigerated vehicles.
With the introduction of the PIR sensor, now available as the Powerlux-PIR and Hyperlux-PIR, any additional switching devices can be removed saving money on both components and labour. The PIR timer switch senses heat and movement to activate the lamps and will turn the lamps off after 5 minutes ensuring unnecessary power isn't used, thereby preventing flat batteries.  If continuous movement is detected the lights in the vehicle will remain on.
Improve Safety / Reduce Accidents
Increase Productivity
Reduce Costs
Made in the UK
10 year warranty
** FLEET TRIALS AVAILABLE **

To discuss your lighting options and to arrange your fleet trial to enable you to test this out in the field for yourself, call Lizzy on 01799 513434.
The Powerlux and Hyperlux range comes with Labcraft's market leading 10 year warranty which, in most cases, matches the life of the vehicle, offering true 'fit & forget' lighting solutions.  All Labcraft products are manufactured in the UK and meet vehicle type approvals.